The Baroness?... or what Facebook wants?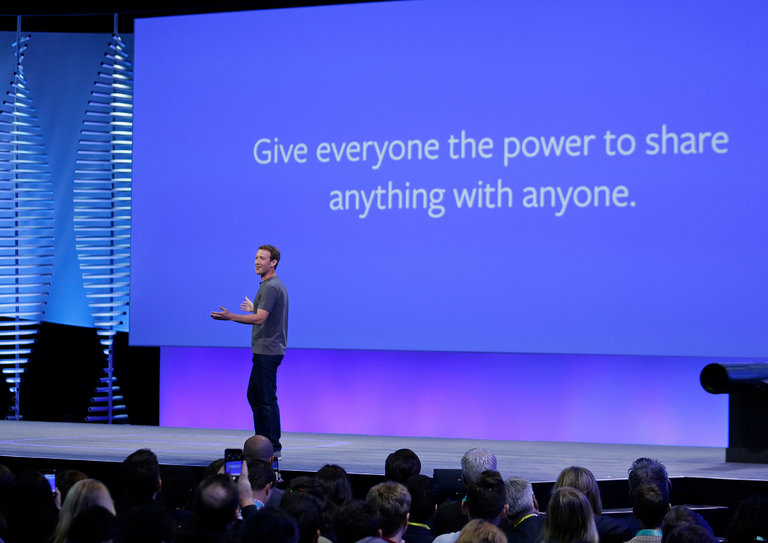 Life is full of choices! – but in some areas of our daily "experiences" not so readily available, let alone possible.
The ever-ubiquitous world wide web affords us little, if any, protection from prying eyes, or connectivity, whether we like or want it.     One can therefore only be taken aback to see the Chairman and CEO of Facebook addressing a meeting of his company (above) with the slogan  behind him " Give everyone the power to share anything with anyone" (emphasis added).    Is that what we all really want?
A sober assessment of the internet, and what it means to, and how it impacts on, people, is probably best put by Baroness Neville-Rolfe (UK Minister for Data Protection) when <a href="http://www look here.techuk.org/insights/news/item/8371-baroness-neville-rolfe-addresses-techuk-s-great-data-frontier">addressing techUK's Conference on the Great Data Frontier:
"I'd like to start by taking a moment to consider 'data protection' as a concept. 'Data' represents units of information that pass through systems; and 'protection' refers to the technical or procedural means by which that information is protected. Strictly speaking, this is accurate. This is the lens through which organisations often view data protection issues. They have been seen first and foremost as technology or IT issues.
I see data protection through a different lens. The 'data' element represents people. Individuals with personal lives, reputations, and livelihoods increasingly enmeshed with the technology we rely on through the data they share. If organisations misuse or lose this data they are breaching not only people's rights, they are invading their privacy. They risk damaging people's wellbeing not just data sets.
In the correspondence I receive as a Minister, people don't talk about breaches and technology failures, they talk about their distress, fear, anger and an erosion of trust. Technology shouldn't therefore be the starting point for a response. 'Protection' should be about respect for individuals and the personal information they share in good faith. That should shift the focus in the board room from a techie issue to a reputational and commercial one."
Perhaps one of the Baronesses fellow Cabinet Ministers ought to have paid attention to the sage words of the Baroness for now comes news that the British NHS, (National Health Service)  has shared some 1.6 million medical records with Google:
"The NHS has given the medical records of 1.6 million patients to Google, it has been revealed.
The records have been shared with Google as part of a data-sharing agreement between the technology giant and the NHS, revealed by The New Scientist.
The records relate to patients of three London hospitals which form the Royal Free Trust; Barnet, Chase Farm and Royal Free Hospital collected over the course of the last five years. An estimated 1.6 million patients attend the hospitals every year.
Google says it intends to use the data as part of its group DeepMind to develop a health app which can help recognise kidney injury."
Were any of those 1.6 million NHS patients ever asked for their permission for their medical data to be provided to Google?    Most certainly not!     So, here we have a government, in breach of its own privacy laws, providing data to a third party (an American company to boot) about its citizens.   Mind-boggling!
Having probably been concerned about the above, reflect on this information in the piece in The Independent newspaper revealing the NHS data-sharing agreement with Google:
"Google has been criticised in recent times for perceived privacy breaches due to the amount of data which it holds on individuals. In 2014, 38 US states sued Google when it was alleged that the cars with which the company takes Google Street View photographs had also been collecting data from computers inside the homes they drove past.
The company has also been accused of sifting through information on messages sent by users through its system to sell the byproducts to advertisers and not making it sufficiently clear to customers that it is able to read wifi passwords."
What is equally troubling is that there has probably been scant regard or a full understanding by people in business that they must ensure the integrity of their systems – and if records and information of clients or their own company, are out there on the cloud, that it is secured against being hacked – assuming that is really possible.   Witness the following as reported by The Register:
"A health trust that exposed the private details of 6,574 members of staff on its website has been fined £185,000 by UK data privacy watchdogs.
Blackpool Teaching Hospitals NHS Foundation Trust inadvertently published workers' confidential data including their National Insurance number, date of birth, religious beliefs and sexual orientation in March 2014. The Trust failed to notice its mistake for 10 months. Even after the penny dropped it took a further five months to alert affected staff, who had been left at heightened risk of identity theft and other scams as a result of their employers's data handling incompetence.
Stephen Eckersley, head of enforcement at the Information Commissioner's Office (ICO), commented: "This trust played fast and loose with the highly sensitive and private information that was entrusted to them. It seems they ignored their duty to put rules in place to protect staff who deliver hospital services to others.
"Any measures taken to protect this information from reaching the public domain were woefully inadequate or non-existent. The fact that the error went unnoticed for so long beggars belief," he added."
We must have reached the tipping point when all of this has to be stopped.   All too regrettably, the individual is powerless to preserve their privacy and personal information, especially when even a government is privy to data-sharing.
Perhaps the last word should go to NomadSquire:
"The issue in today's online world-wide-web is that it is not just individuals living in your local community that you have to worry about. The internet is a global village. Whereas you might have had the occasional traveller passing your home, people that were likely to compromise your privacy at home would normally come from the local community.   However, given the nature of the networked cloud, you now will have visitors from every corner of the earth being interested in your personal life. That's why privacy is so important"
One significant step the individual can take to counter this accessing of personal information, is to adopt  LifeBank and HealthBank as part of their life.   The user retains complete and unfettered control not only of the data key itself but the vital personal data (fully encrypted) on it.